Writing my book, A House Interrupted, has been the most un-expected, life-changing journey of my adult life. When I wrote my book, I had only one purpose in mind. To let the world know about the damage sexual addiction has on women and families. To be able to hand my book to another women coming behind me on this journey and say to her – "here is what worked for me – take what you like and leave the rest." Pure and Simple. Never did I imagine the places I would go and the people I would meet after my book was published.
This past weekend in NYC is a great example of a 'pinch me' moment.  A few months ago I noticed a new book being published called Gratitude and Trust, written by Paul Williams and Tracey Jackson. (Yes, that Paul Williams that millions of us grew up watching on Johnny Carson – Award winning singer, songwriter, actor, and recovery advocate.) Tracey Jackson is a playwright, screenwriter and author. Together, they wrote a ground-breaking book that makes the case that the "recovery world" is just not about alcohol, drugs, and addiction.  That anybody could benefit from working their 6 Affirmations that Gratitude and Trust is based on.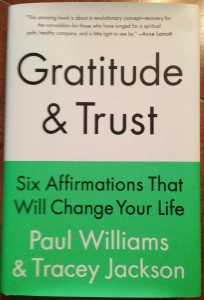 I bought the book and loved it. Also subscribed to their blog feed. Paul and Tracey have wonderful posts on almost a daily basis, which I actually read. Wasn't long before I saw a call for presentations for their first one day conference in NYC at the 92nd Street YMCA. I applied for my presentation on Healing from a Husband's Sexual Addiction and was gratefully accepted.
Paul and Tracey partnered with their friend Jeff Keni Pulver. I googled Jeff Pulver and he turned out to be an Internet Pioneer, Social Media Advocate, where his latest co. is called Zula.  Most importantly for me, he has been beautifully candid with his personal story about his struggle with being over-weight (which he isn't anymore!) A truly humble guy who is passionate about sharing other people's life stories – that can make a difference in someone else's life.
Tracey, Paul and Jeff put together a one day only event held at the 92 Street Y.  The "green room" is lined with photos of famous politicians, artists, singers, and actors, who have graced this stage. Each speaker was allotted 10 minutes to share what they wanted to share.
Speaker's were asked to be in the building an hour before you were scheduled to speak. I went a bit early as I wanted to see the conference and hear some of the wonderful speakers planned before my slot.
I heard the following inspiring people before my turn. Here are some of their names and twitter if you would like to learn more about them. Chandresh Bharwaj @MeetChandresh, Fred Devito @fdevito. (he is Tracey's personal trainer – and I realized as he was speaking, that I have one of his core tapes, that I just started using!)
Left the audience and went backstage to get ready for my presentation. Met Paul Williams, which was a real thrill.  He was going to introduce me. I thought that was a really nice touch. Tracey, Jeff, or Paul did a personal introduction for every speaker.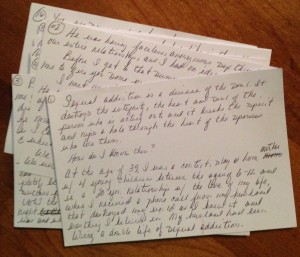 Shared my story at the podium that was provided. I am committed to speaking out publicly, wherever I can, about the devastating impact sexual addiction has on women and families.
My 10 minutes flew by and before I knew it, I was done. Went back into the green room and collected my things. Met Hollywood Anderson and other really sweet people.  Paul graciously posed for a photo with me!
Left the green room and went back into the conference to hear some more wonderful, gifted speakers. Please check these names out: Danielle Smith @extraordinarymommy, Clay Rivers @clayrivers, Ron Gold @The_RonnieG@LeononWe, Paul and Tracey @IMpaulwilliams @TraceyJackson4, Robert Leviathan@robertlevithan, Hollywood Anderson @hollywoodandyny, Mark Horvath @hardlynormal, Sam Simon @ theactualdance and Lama Surya Das @lamassuryadas.
There were so many more great speakers in the afternoon, but I had to leave after lunch. Please check out the gratitude and trust web site if you would like to see more of the amazing speakers that were at this conference.
I was honored to be a part of this day. Loved being in the presence of all kinds of people who have a passion for giving back, and, spreading positive, spiritual, and up-lifting messages for others.
Thanks for checking in with me!
Maurita